"With Clarity" is a New-York based fastest growing online engagement ring company. Offering natural diamonds, lab-grown diamonds, customized engagement rings, wedding bands & jewelry online in the USA. With Clarity has something unique than any other online vendor. They call it "Home Preview". It enables the consumer to try a replica of the desired ring at home before making a final purchase. Interesting, right? Let find out more in our in-depth With Clarity review below.
History of With Clarity
"With Clarity" formerly known as Four Mine was founded in 2015 by Anubh Shah and Slisha Kankariya. Revamping the engagement ring buying process, they filled the gap between traditional business; physical buying and modern business; online buying.
The idea of starting the company popped in Anubh's mind when he went for shopping of engagement ring for Slisha. He suffered all the hustles that a consumer goes through while purchasing an engagement ring in the traditional way.
With the help on 3D printing, With Clarity now offers an amazing try-at-home experience to their customer. And, today With Clarity is the fastest growing engagement ring company in the United States.
Growth Tells People Love With Clarity's Diamond Engagement Rings
With Clarity was listed on #18 on INC 5000 list. With Clarity also listed as the #4 Top Consumer Products & Services Company, #4 Top New York City Company and #3 Top NY company. With Clarity has grown over 900% in the past one year alone with its new model of try before you buy. Statistics show that 90 % of the customer's research engagement rings online but only 14% purchase them through online platforms. With the new features that are provided by With Clarity, the numbers are changing and now more people are buying the engagement ring online – Source
With Clarity Review, What makes them stand out?
Home Preview
The first and the foremost thing that With Clarity offers as an exclusive feature to its customers is the Home Preview option.
What is With Clarity Home Preview?
You list down the ring of your choice and request up to 2 replica rings for home preview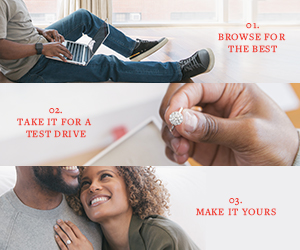 A 3D replica of your choice will be delivered to you.
You can check how the design will look in reality.
After a period of 3 days, you will have to return the 3D replica
This service is 100% free of cost. You can share this replica with your friends and family before making this important purchase.
Thus a home preview will enable the customer personalized shopping experience within his/her comfort zone.
With Clarity Review: Pros and Cons
Let's look around the pro and cons in our detailed With Clarity review below.
7 Pros of buying an engagement ring from With Clarity
---
1. Option Availability
With Clarity offers over 8000 combinations of ring styles, carat, diamond shapes that are available for the customer to preview before they buy.
The rings are available with both natural (over 1, 45,000 options) as well as lab-grown diamonds (over 4,000 options)
2. Craft Your Ring
This feature makes the process of purchasing the ring absolutely amazing. We have to choose only three options the choice, metal, and the diamond shape and all the combinations are listed down. This feature makes choosing a diamond ring less complicated.
Just 3 simple steps to make you go with the best ring hassle-free. We loved this feature and would recommend you give it a try right now.
3. Personalized Expert Picks
Confused about what to choose? You can submit your budget, choice of diamond, choice of shape to With Clarity and their expert gemologist will pick three choices for you to choose from and send it to you over email.
4. 30-Day Full Return Policy
With clarity offers a full refund within 30 days of your purchase for your returns. The product should be in its original condition and within 7 business days, you get your 100% refund. Please keep in mind that custom jewelry is not eligible for returns. Check out more on With Clarity website.
5. Free Re-sizing & Engraving
With clarity offers 100% free engraving. Talking about the resizing, you have to pay the insured shipping fee 40$ and the team will help you with resizing your ring free of cost. Free Resizing on Engagement Rings!
6. Lifetime-Warranty & Finance Option
With Clarity offers Lifetime Warranty against manufacturing defects. Any diamond which is broken or lost during everyday wear and tear is also replaced on request. (the diamond should be under 0.10ct). Lifetime Warranty for Engagement Rings!
You can apply for With Clarity store credit card and make instant purchases. Know more about Engagement Ring Financing
To avail of this benefit, there are few things to consider which are mention on the website. We request you to check before making purchases.
7. Conflict-free diamonds
The diamonds offered on With Clarity are conflict-free. Conflict diamonds are those diamonds that are obtained as a result of violence and abuse of humans and after damaging the environment.
2 Cons Of Buying Wedding Ring At With Clarity
Being Unbiased, Let's check out the not-so-good side of With Clarity.
---
1. International Shipping
Currently, With Clarity only ships within the United States. If you are from another part of the world then it's not for you at the moment.
2. Diamond Videos & Images
With Clarity does have videos and images, But not for all the diamonds on their platform. Although they provide images/videos on request.
How to make a purchase of engagement ring at With Clarity
Just a simple 3 step process to buy an engagement ring online.
Step 1: Choose Ring Setting
Choosing a setting is important before selecting a diamond. It will give an overall idea of how much of your budget. The setting style will also help in selecting the color for a diamond.
There are three things to select while choosing your setting the collection, metal, and the shape of a diamond.
The collection gives an overall design of the ring i.e halo designs, 3 stone designs, solitaire designs, etc.
From the metal option, you can choose the metal; there are various options such as white gold, rose gold, yellow gold, and platinum.
Last, Choose a diamond shape. Round and Cushion shape diamond looks amazing with a halo setting. Choose your desired diamond shape.
These will list down all the rings available on the With Clarity platform. After selecting a ring from the gallery you can still customize it with your choice. You can change the color of the metal or the shape of the diamond. With Clarity offers customization until the last minute. Once you finalize your ring you can directly place the order or select the home preview option to get the look and feel of the ring.
We suggest going with the Home Preview first, wear it for a day or two, share it with friends and family. If everything is perfect, make your important purchase confidently.
Step 2: Selecting A Diamond
Purchasing a diamond on With Clarity is also pretty simple. You select the price, carat, cut, color and clarity and the platform list down all the possible diamonds matching your criteria.
If you find a diamond interesting, select and proceed. Or you can even request for diamond images and videos.
Confuse about diamonds? comment below or email us we would be happy to help you.
Step 3: Checkout
Fill-up your details, make a payment, sit back and relax.
With Clarity also offers Gemstone rings. You can choose the gemstone ring in the same way as you would choose a normal ring.
Conclusion:
One of the best things about With Clarity is Home Preview. Giving a customer the real experience of their desired ring before actually owing them is something really incredible. I highly recommend giving With Clarity Home Preview a try, it 100% free. Kindly comment below your views and experiences.